Global defence equipment majors such as BAE Systems and Lockheed Martin could set up manufacturing units in India and bring in foreign direct investment (FDI) exceeding 49 per cent, provided the company's chief executive officer (CEO) is Indian.
As the objective was to let only serious players enter the market, the defence FDI policy approved by the Cabinet on Wednesday categorically stated investee companies should be self-sufficient in product designing and have maintenance and life cycle support facilities for the products they manufactured here, said a senior department of industrial policy and promotion (DIPP) official.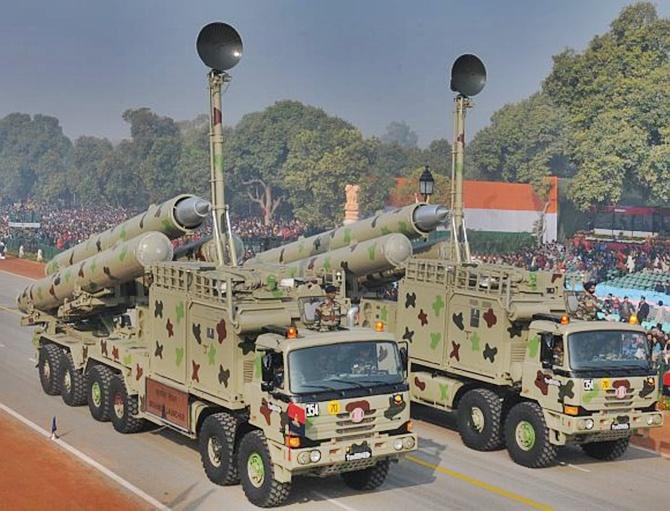 The Union Cabinet had approved an increase in the composite foreign investment cap in the defence sector from 26 per cent to 49 per cent. For investment exceeding 49 per cent, the Cabinet Committee on Security (CCS) will clear applications on a case-by-case basis.
"It could go up from 49 to 100 per cent, depending on modern and state-of-the-art technology, with the approval of the CCS," said the DIPP official.
The CCS might consider such proposals only in rare cases in which original equipment manufacturers such as BAE Systems, Lockheed Martin, Airbus Group and Sikorsky intend to set up manufacturing units here.
This is aimed at ensuring only top defence original equipment manufacturers, with robust and proven track records, enter the market, with large-scale investment proposals. The government is hopeful this will not only lead to more manufacturing facilities in the country, but also ensure the life cycle of products is catered to by foreign companies.
The CCS will see to it that the management and control remains with Indian companies in case the FDI exceeds 49 per cent, more so in case it is more than 51 per cent, on a case-by-case basis. The official said in these cases, the CEO had to be Indian.
However, experts say subjective norms such as modern and state-of-the-art technology, self-sufficiency in product designing and maintenance and life cycle facilities will be hurdles to attracting FDI.
Amber Dubey, partner and head of aerospace and defence, KPMG in India, said, "Subjective conditions such as local design, maintenance repair and overhaul, lifecycle support facility and state-of-the-art technology run the risk of interpretation, delays, misuse and litigation. Once an original equipment manufacturer wins a competitive tender, market forces will force these to be transferred to India in stages."
Putting onerous preconditions ended up discouraging serious investors, Dubey said, adding the government could, instead, bring in practical checks and balances that would help build a strong defence industrial base in India through 10-15 years.
"The CEO has to be an Indian national by default, from the perspective of national security and individual accountability. It would be practically difficult to get a CEO of foreign nationality extradited to India and prosecuted in case of an adverse event," he said.
Officials said all foreign institutional investment up to 24 per cent would be allowed under the automatic route. The DIPP official said proposals related to FDI exceeding 26 per cent would be approved on a case-to-case basis, apparently due to "national security concerns, as it (defence) is a highly sensitive sector".
Since the Indian defence sector was opened to private companies in 2001, barely $5 million of FDI has flowed into it, according to official statistics.
Nayanima Basu in New Delhi
Source: